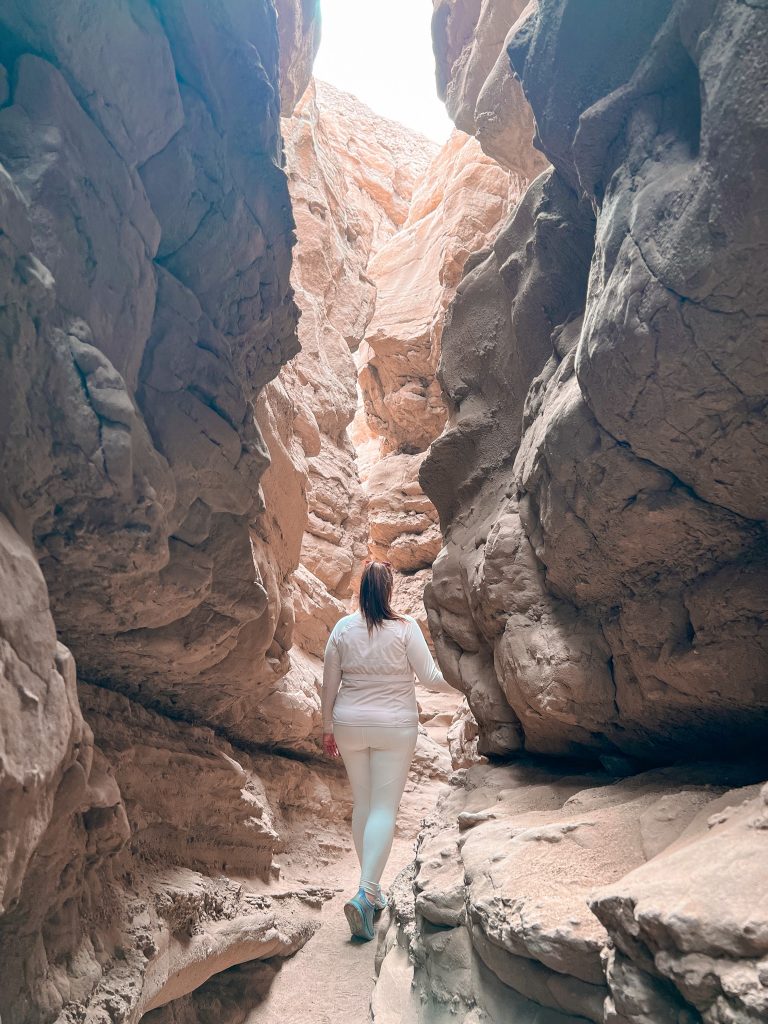 Borrego Springs is a secret, off the grid getaway spot, where the world slips away. It's a scenic desert location only about a 3 hour drive outside of LA, with seasonal blooms and a dark night sky, surrounded by the San Ysidro, Santa Rosa and Vallecito Mountains. There's dreamy views of the stars like no other (it's a designated dark sky community – meaning no bright lights at night), as well as ample equestrian, hiking, biking and off roading activities in Anza Borrego, California's largest state park. And while you may not find big box stores, you will find plenty of great, locally run shops, luxury resorts, spas, award winning golf courses, campgrounds, RV Parks and unique shopping and dining experiences. I enjoyed Borrego Springs so much, I wanted to round up a few of my favorite things in case you decide to head over there too!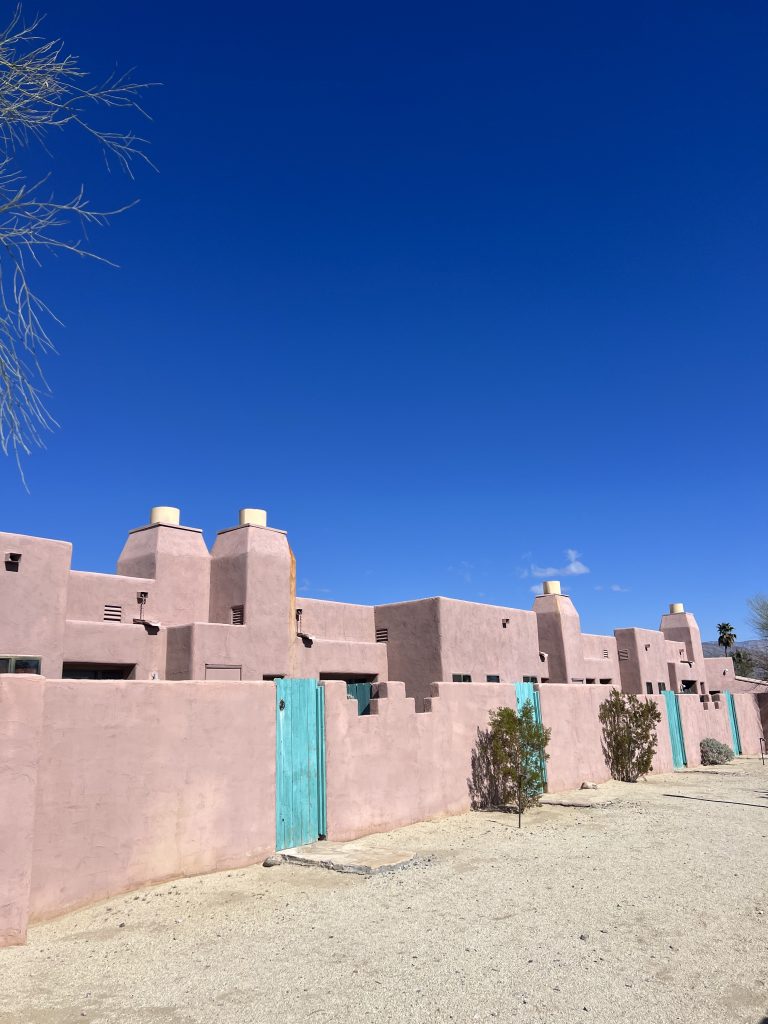 WHERE TO STAY
Borrego Valley Inn: What's not to love about this luxurious, adults only desert escape located in the most central location, perfect for exploring Anza Borrego State Park?! Tucked among ocotillo and barrel cactus, this pueblo-style inn with views of the mountains, two pools/hot tubs (one of them clothing optional) and private patios for night-sky viewing, is hands down my favorite place to stay. All rooms have in-room fireplaces, kitchenettes and they'll even deliver complimentary breakfast to your door. I spent mornings on my private patio drinking coffee and soaking in the sun before heading out for the day. Go out for a hike then rest your body in the hot tub before heading out again to grab a bite. Warning, the decor and the ambience are so relaxing, you may not want to leave!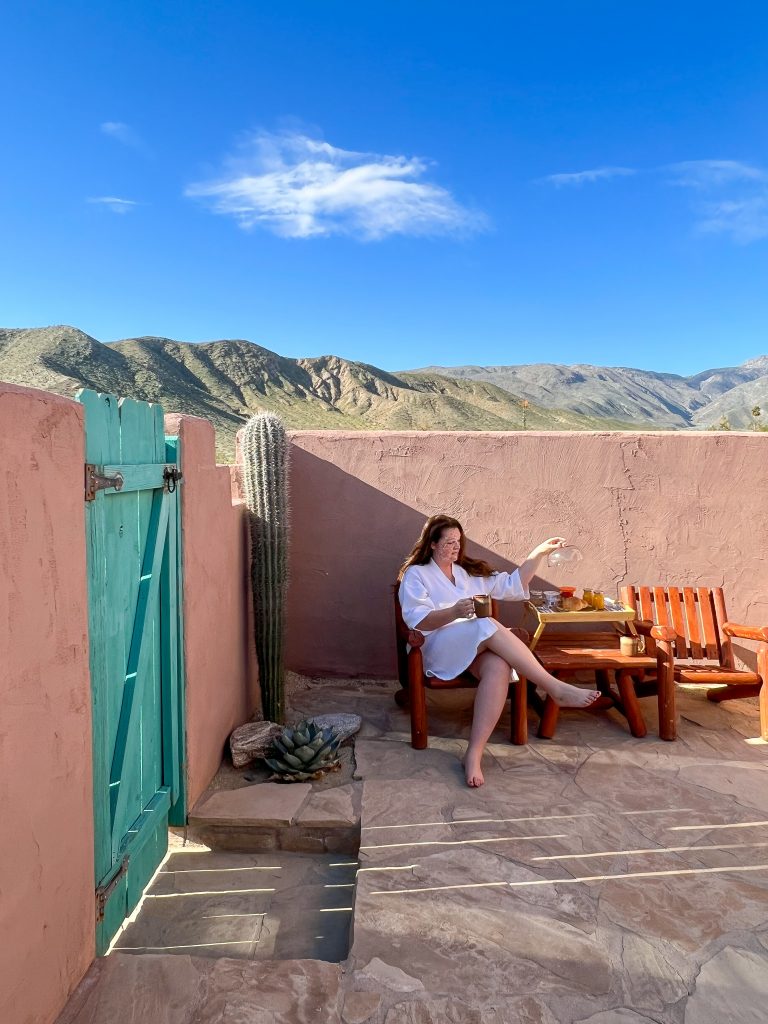 Other recommended places to stay if you are traveling with children or dogs: Palm Canyon Hotel & RV Resort, La Casa Del Zorro
WHAT TO DO
The Slot Hike in Anza Borrego State Park: This is definitely one of my favorite hikes! It's a moderate to easy (I actually found it much easier than the Palm Canyon hike) 2.3-mile loop that will require you to do a little bit of rock scrambling. The sights are unparalleled as it takes you through a siltstone slot canyon (the only of its kind in the state of California). You will need to stop at the State Park Visitors Center for a map as the entrance to this hike isn't well marked and easily missed from the road. Once you finish getting through the slot, keep walking and head down through the wash. Once you've reached the end of the trail where the off road vehicles park, you can turn around or complete the loop. We found it easiest to turn around, plus we wanted to go back through the slot again! Please note the entry fee for the park each day is $10.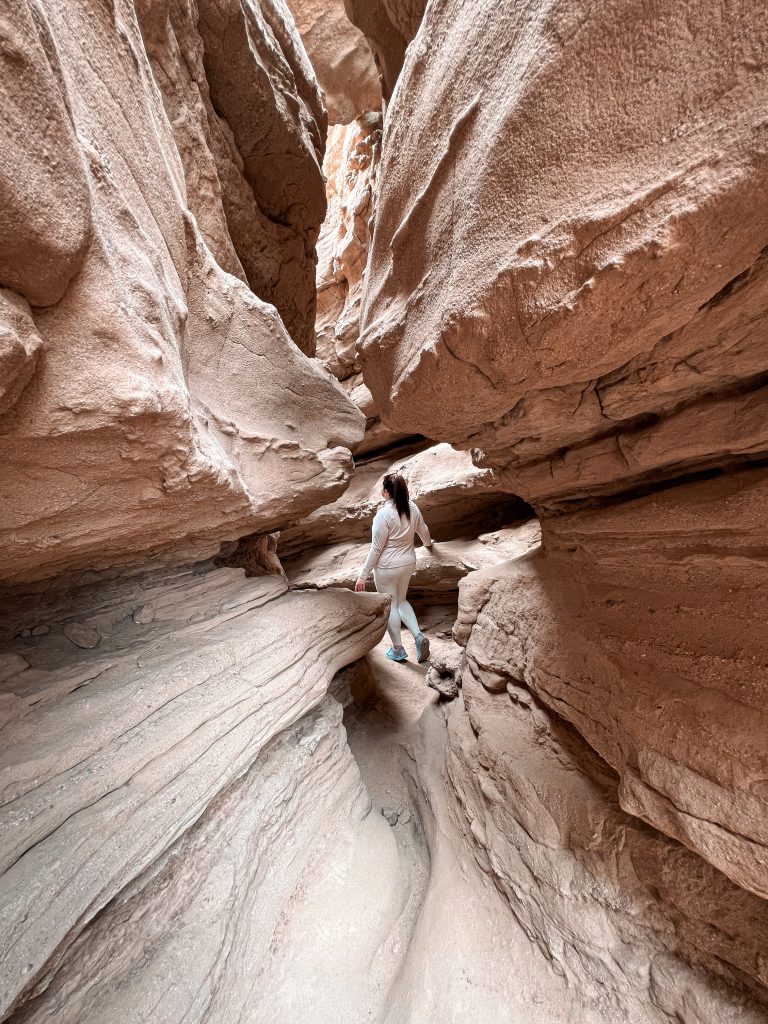 The Borrego Palm Canyon Hike – This was definitely a much more complicated hike in the moderate category. The trail's very rocky terrain gradually leads up to a lush grove of palm trees and a refreshing mountain stream. You will have to do a little bit of rock scrambling and cross a few creeks to reach your destination. Once we reached the top we sat down for a bit and relaxed under the palms by the spring. Definitely pack enough water on hotter days and I don't recommend taking the alternate route back down as it's very got lots of twists and turns and is not as well marked. Some recommend this route to see more big horned sheep but we didn't see any on our trip this time.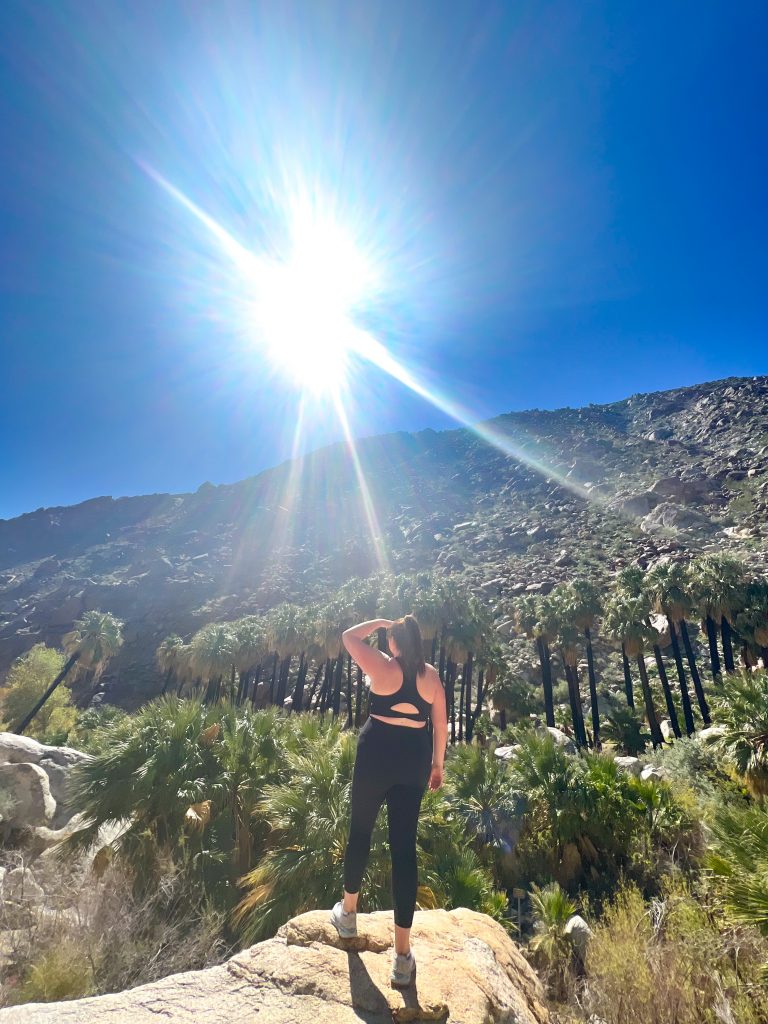 Galetta Meadows – Love that this is an easy way to drive around and see various metal sculptures. There are 130 freestanding works on display in the open desert, and no entry fee is required to see them.
The Courts – the cutest pool, tennis courts and club with a coffee shop. Pop in if you'd love a cool spot to play some tennis!
Stargazing – this one goes without saying. As an international dark sky community, the stars shine much brighter here.
Superbloom – catch the superbloom season here! There are tons of easy trails and hikes in the park that allow for access.
Borrego Art Institute – Feel inspired with the latest selection of art featured in this beautiful gallery.
WHERE TO EAT
Red Ocotillo for breakfast is highly recommended. Get the breakfast burrito or chilaquiles.
Los Jilberto's pop in here after a hike, some of the best tacos and burritos await you. Please note cash only.
Carmelita's Mexican for breakfast. I recommend trying the chilaquiles or the huevos rancheros.
Carlee's diner perfect for lunch or dinner. We even caught live entertainment one evening.
Also recommended but didn't get a chance to try Coyote Steakhouse, Big Horn Burgers and Shakes, Kendall's.
The possibilities in Borrego Springs are endless! Spend the day or the weekend there. Either way you won't regret taking the day to escape here.
Looking for more California content? Explore my other guides to Ojai, Death Valley and more here!