I love a versatile dress as much as the next girl, but in recent years, I've been gravitating to more whimsical styles.  So when Tadashi Shoji reached out to me, I knew I would find some magical pieces to wear to my upcoming events. On a total side note, they have been on my list of dream brands to work with for quite some time!
I love that they have a variety of sizes and when you put on their gowns, you feel all the feels. You know, that feeling that ths dress is just perfect for you. Now whether you're more of a minimalist in terms of your fashion choices or you love anything decolletage bearing, you are sure to find your dream dress in the mix.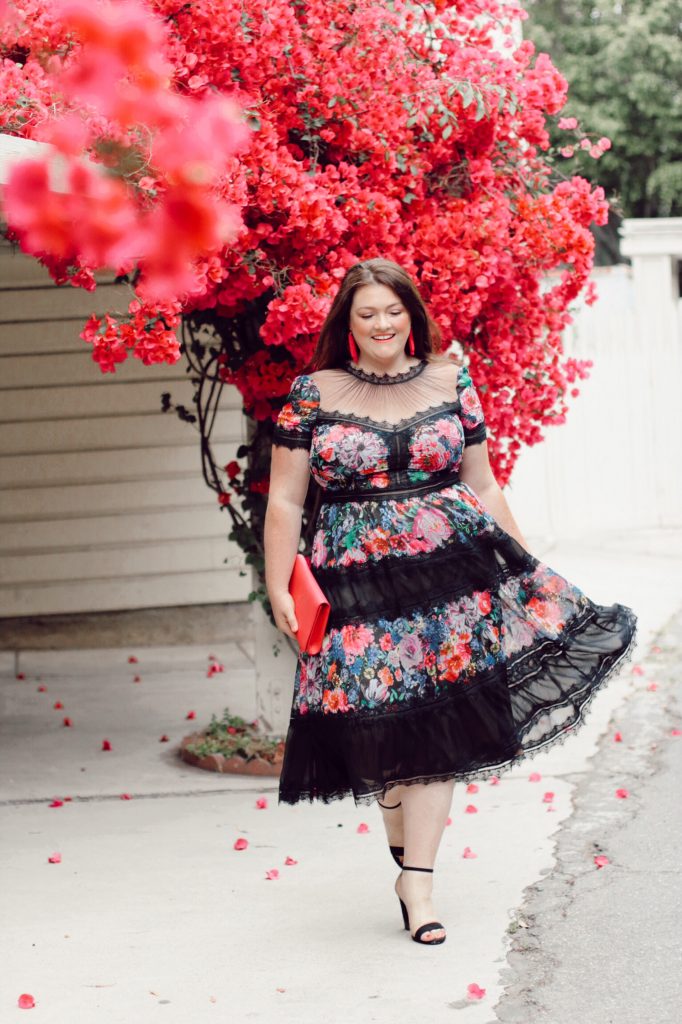 In this instance I was drawn more towards romantic silhouettes with an illusion tulle neckline. The Ravi Floral tea dress has major Italian vibes and I immediately felt like a goddess when I tried it on.
Next up, this gorgeous a-line off the shoulder, Maya illusion dress in lace (currently on sale!) This dress had me feeling like royalty. There is so much attention to detail in every Tadashi Shoji dress and I love the short flirty length.
Also worth noting: These unique dresses come in not only a variety of sizes but styles, like maxi, tea length and knee length. Not only that, but these beautiful dresses are very Instagrammable, which you're about to see proof of.
Overall, I love the luxurious feel and fit of these gorgeous, intricate dresses and I know you will too. Go for a floor length gown if you want to maximize the drama or take a sexier route with a bodycon dress like the ones here. Totally worth the splurge and some of the pieces on the site are currently on sale! Feel free to shop some of my current favorite styles here.
**Dresses c/o Tadashi Shoji**