*This post is in partnership with Castlery. As always, all opinions are my own.*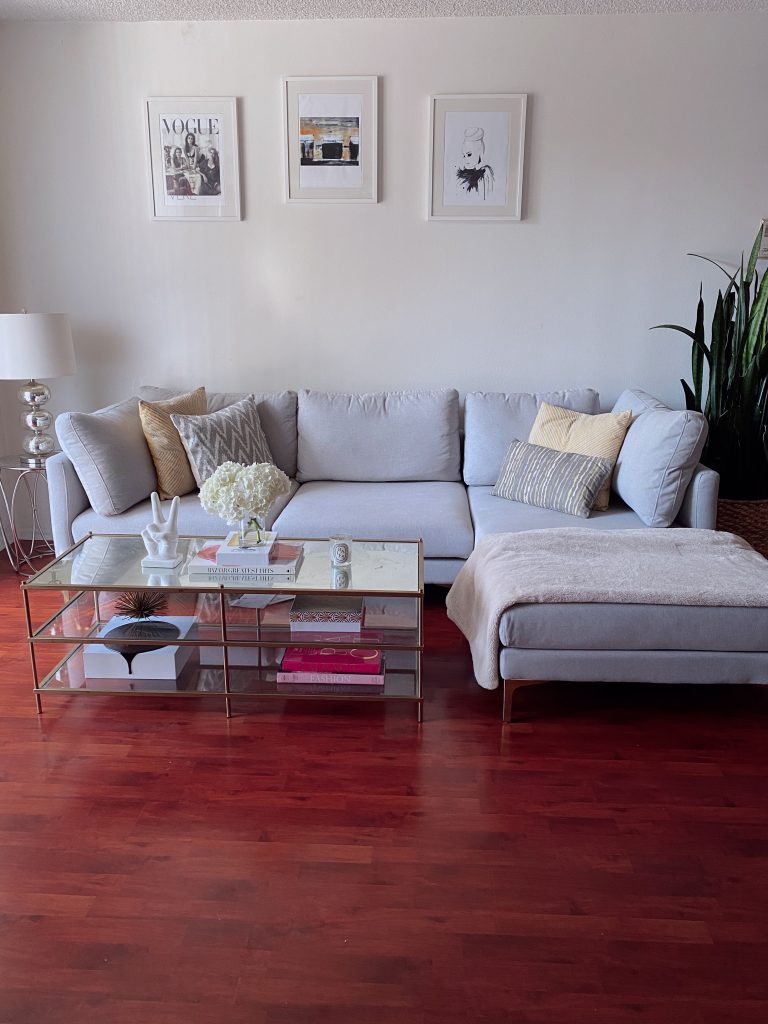 Since we have all been spending more time at home these days, I decided it was time to give my apartment a refresh. Or, rather, after perusing Pinterest for hours one day, I noticed the widening gap between the home I have and the home I want. Now, I know it can be a daunting task to transform your home into a well designed picture worthy space. To be quite honest, I am still in the process of reworking mine and there always seems to be something that needs updating. Couple that with the fact that I live in an older mid century apartment in West Hollywood which definitely needs more than a few cosmetic updates! So how does one go about giving your home a refresh without breaking the bank? Here's how…..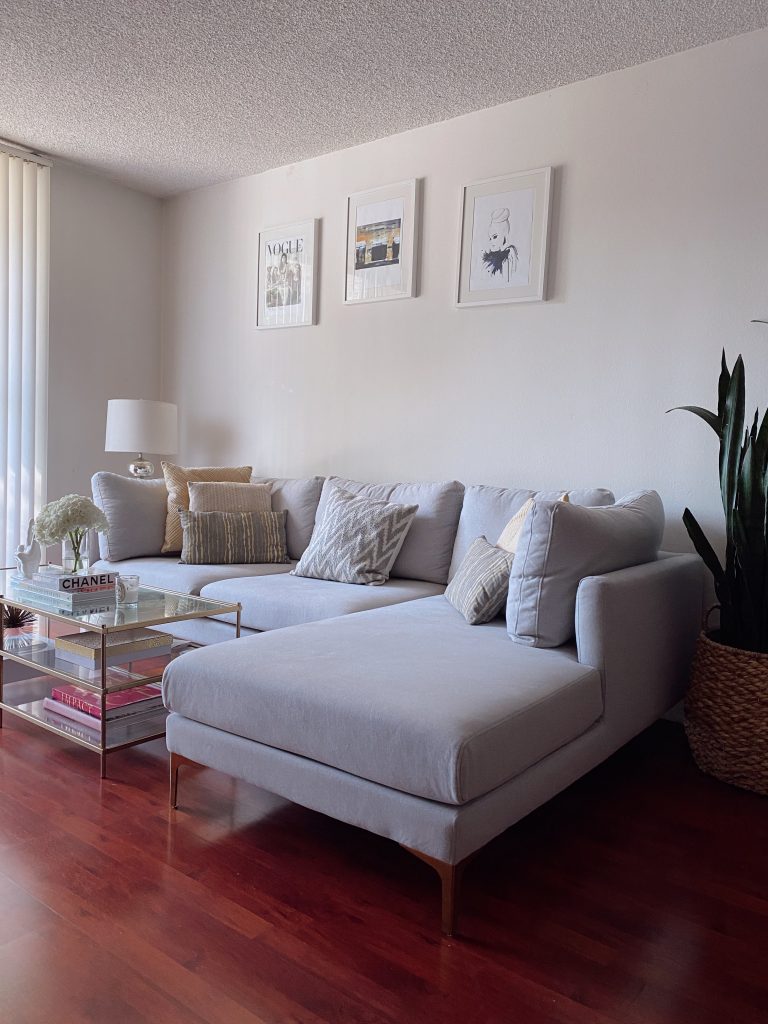 First up, start by removing the clutter and chaos. Anything you don't need get rid of it. My advice is to tackle one room at a time so that you can keep the process organized. You would be amazed a how much better you feel once you've managed to get rid of things that no longer serve you. And, hey if you're not ready to donate or toss things out, find new ways to organize it!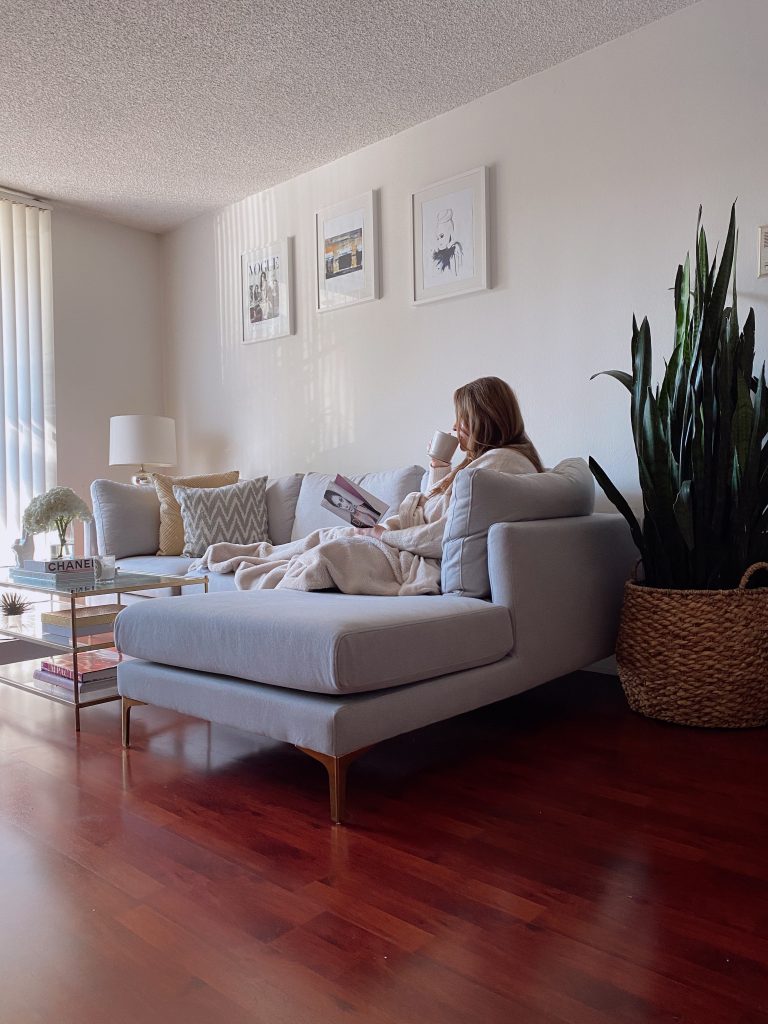 Next up, look at your existing pieces of furniture. Often times, taking your favorite pieces and moving them around the room for a new look will do the trick. In my case, however, I knew it was time for a new couch. I wanted something airy and lighter than my previous couch, which was a chunky style in a dark grey color. When I found the Adams Sofa at Castlery, I knew it would be perfect. I envisioned a light colored couch with gold accents. They even have a rich, beautiful dark green color which tempted me too.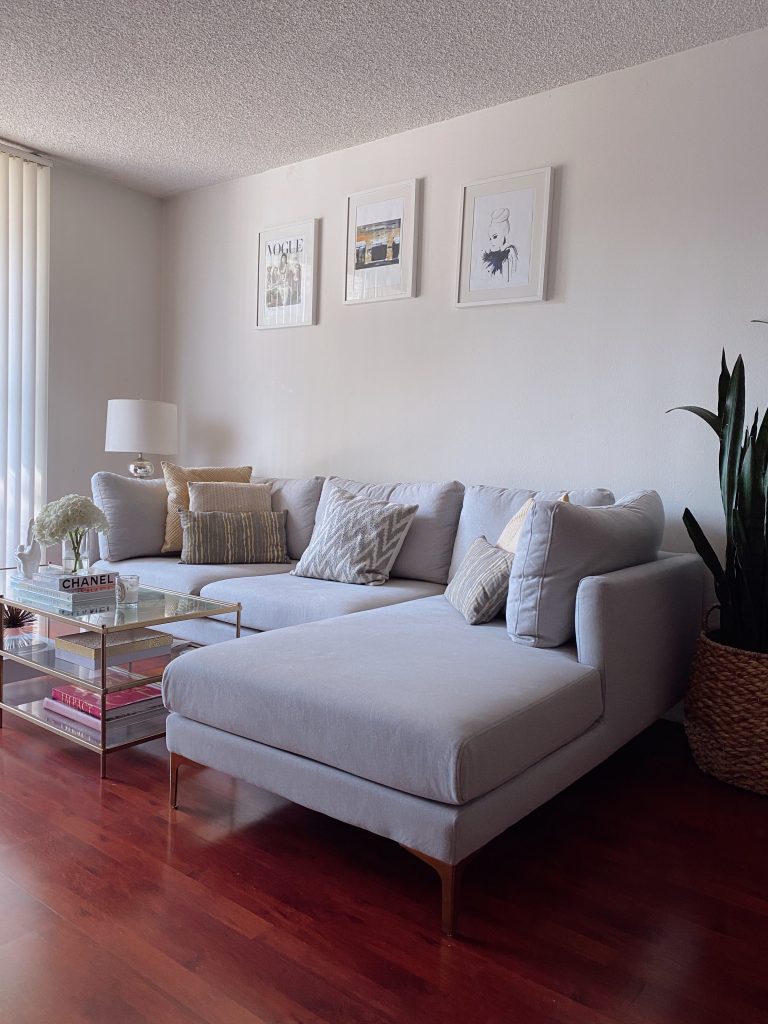 Another major reason I decided to go with Castlery for my couch, is that they offer options for the hardware on most styles. So, if brushed gold isn't your ideal color, you can switch it out for silver or black. Overall, I LOVE the price point and customization options at Castlery. Another thing absolutely adore about this sofa besides it's timeless design, comfort, and great support is that the SOFA COVERS ARE WASHABLE. Yes, you heard me. My fear of getting a lighter colored sofa was assuaged once I heard about this! Another cool design feature, is that the Adams Sofa comes in several design configurations. After looking at my space I opted for the left sided chaise style and boy do I love it!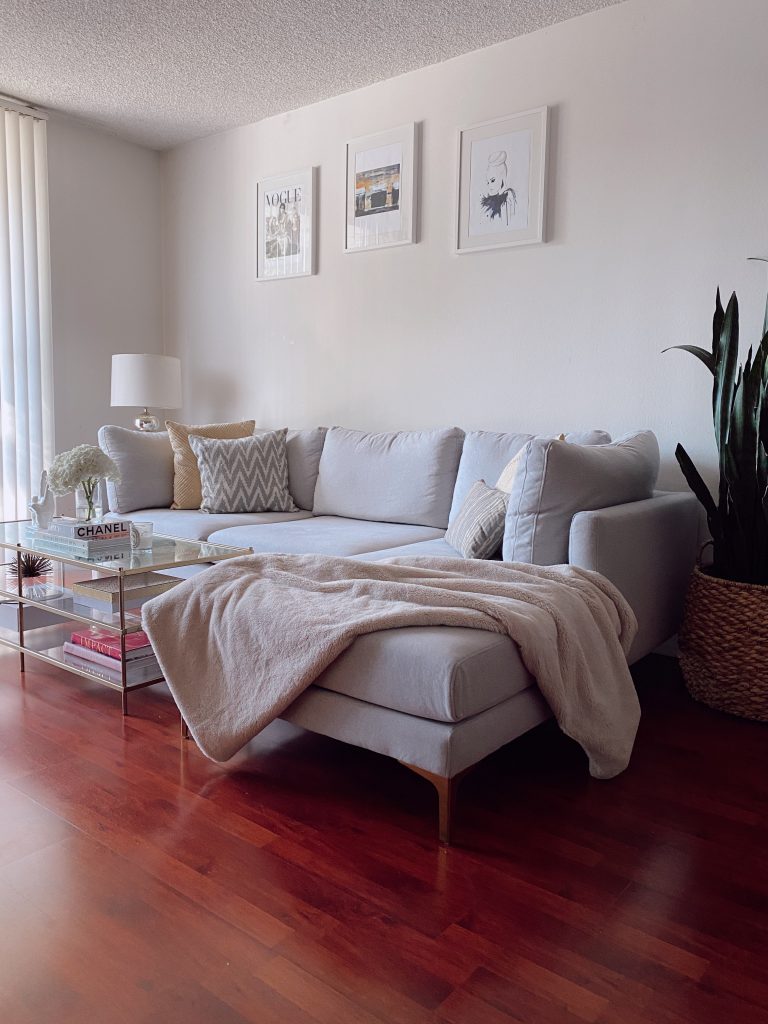 And, I have had the current couch for over a month now and I have no complaints. It's super comfortable and accommodating for more than one person. You can see a major difference in my space – just check the photo below for the old couch!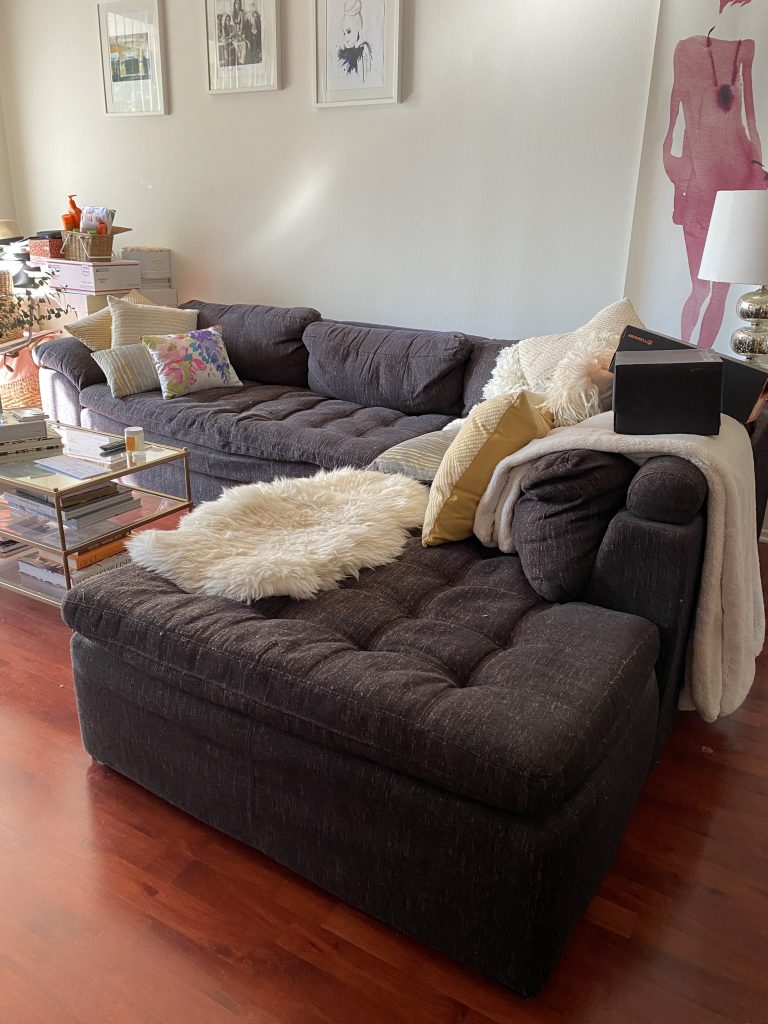 Ok, so after getting my new amazing Castlery Adams sofa, I had to restyle my space. Which brings me to my next set of tips! A great way to do this is by adding new pillows or artwork or reworking your coffee table. If you are feeling overwhelmed, this might be a great time to partner with an interior designer who offers e-design options. One of my favorites, who is based in LA and I had the pleasure of working with, Antonio Deloatch, offers consultations for your space at an affordable rate. He also allows you to take it room by room as your budget allows (this would be me!). I will definitely be sharing more on that later!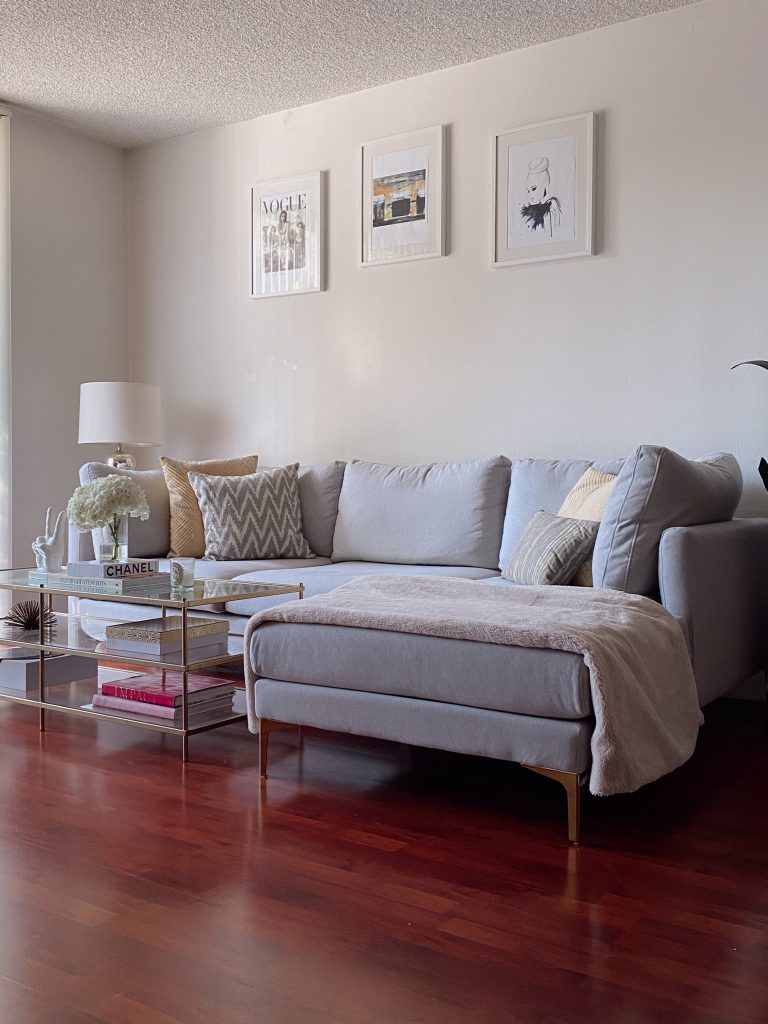 Lastly, try fixing up the walls, changing out the curtains or lighting and adding new hardware. You can easily add removable wallpaper or a large mirror or new art to your walls. Another possible fix, get new curtains. There are all kinds of affordable options out there and it might just be the one thing that changes the look of your entire space. And, a favorite trick of mine, is changing out the old hardware throughout all the rooms. Opt for something trendier (e.g. black knobs or gold) while adding new pulls to your cabinets, switching out doorknobs or your kitchen faucet. I cannot tell you the huge difference it makes by switching out the lighting. I am currently in the process of replacing my dining room table lighting with a chandelier and I can't wait to show you.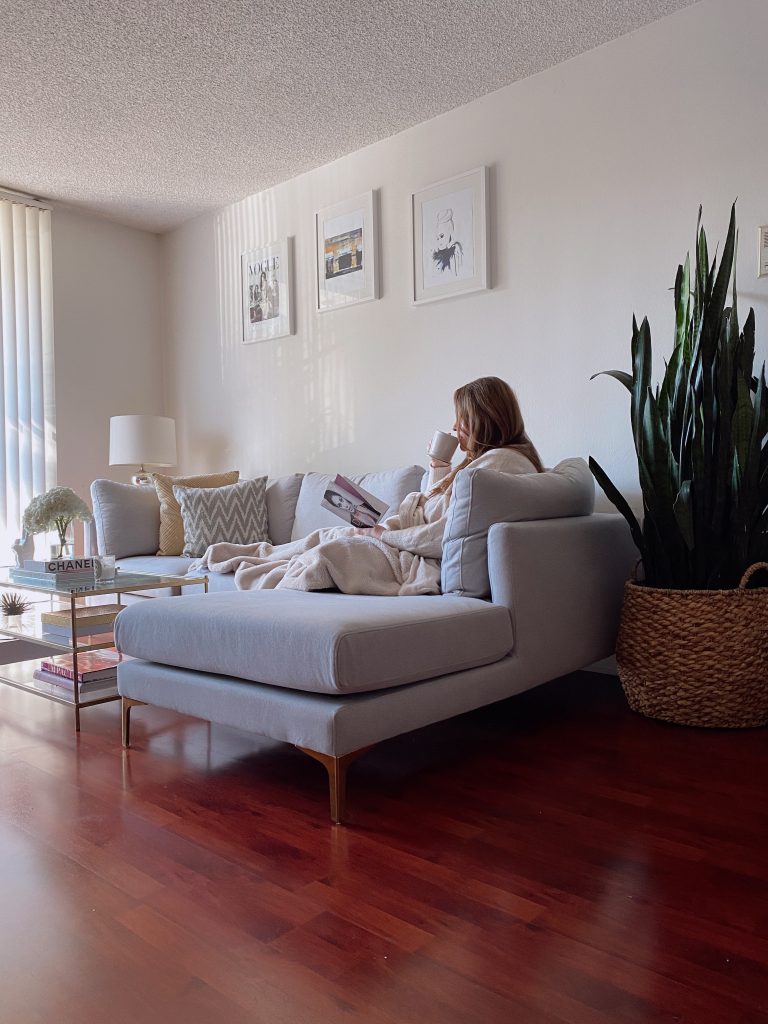 Overall, I LOVE the change in my space after getting my new Adams sofa from Castlery. It has definitely become the focal point of my room. After spending countless hours at home on my couch, I am happy to report back that this couch is super comfortable and the cushions keep their shape thanks to their high quality foam filling. Another bonus? The shopping and delivery process at Castlery was super easy. I had my couch delivered and assembled in less than two weeks. Perfect for someone who is impatient like me. But, seriously though, who wants to wait 12 plus weeks for a sofa – not me. Now, you can't go into a showroom and try a Castlery sofa, as they don't have one to keep costs down. BUT, they do have a 14 day return policy and you can order free fabric swatches. And, the price is hard to beat for the quality!
SHOP THE ADAMS COLLECTION | SHOP CASTLERY
For more ways to upgrade your rental home, check out this article I wrote here!