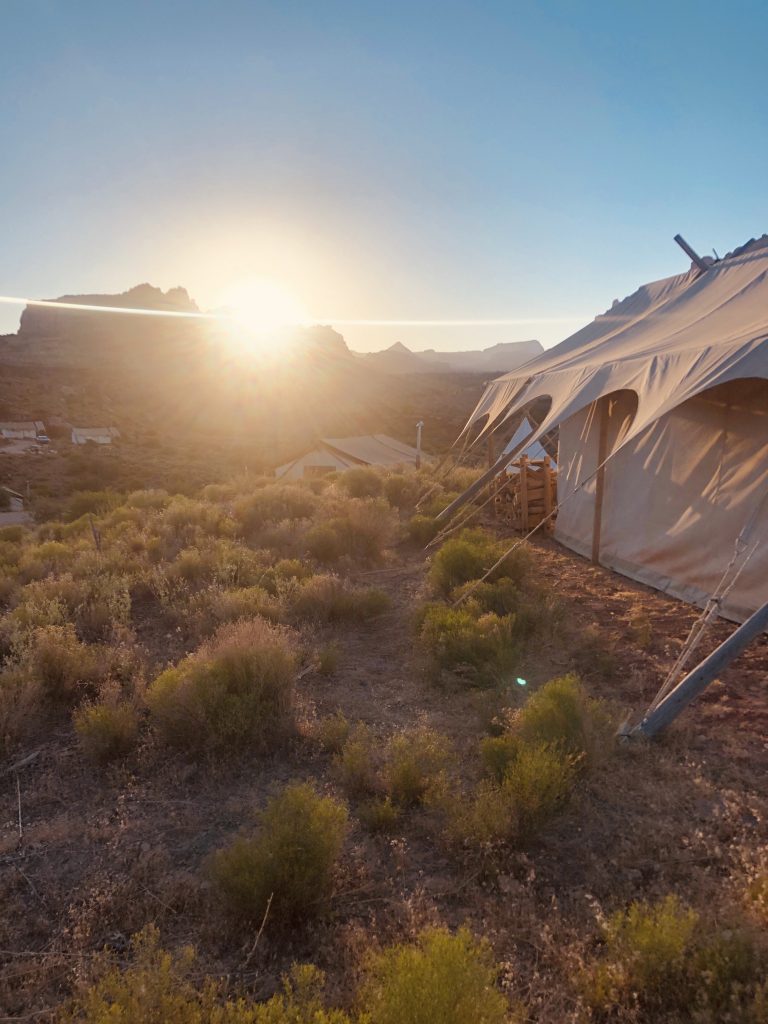 First of all, let me start out by saying that camping usually isn't my thing. I love nature and have certainly spent many a days hiking or lounging at the beach, but truth be told, I am more of a 5 star resort type of girl. Staying at Under Canvas Zion, however, is not your typical camping situation. Nestled right next Zion National Park in Utah, surrounded by soaring mountain ranges and magnificent red rocks situated under the vast starry sky, staying here is sure to be an experience you will never forget.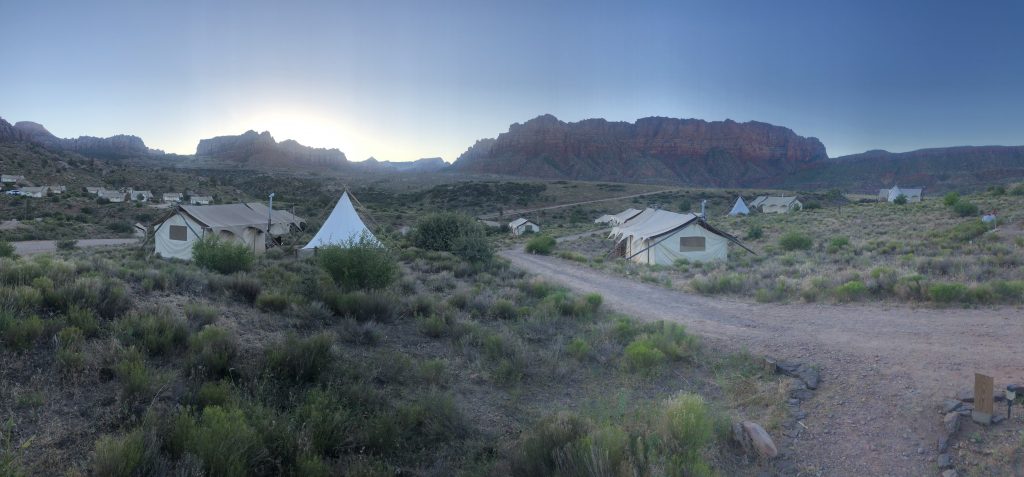 TRAVELING TO UNDER CANVAS ZION
Since we live in Los Angeles, and are currently in the midst of a pandemic, we decided to make this a road trip. We drove from LA to directly to Zion National Park in under 6 hours. Side note: Under Canvas is about 2 hours outside of Las Vegas, so you could also fly in and rent a car.
THE CAMPGROUND
I was greeted with a warm welcome at check-in and ushered down to our large safari canvas tent which included more than your usual share of amenities one would expect when camping. A comfortable king size bed, animal hides on the wood floors, a wood burning fireplace, a misting system for the hot days, running water, and a private bathroom with organic bath products were just some of the things we found.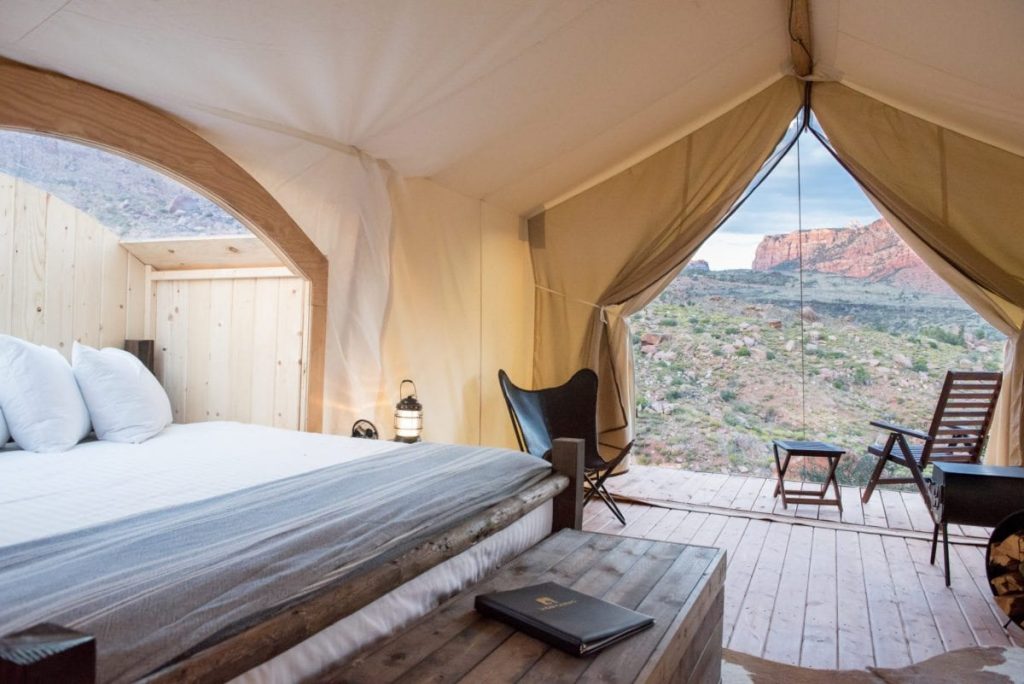 There is an onsite restaurant nearby, Embers, that will satisfy the pickiest of foodies. In addition, the campground is kid and dog friendly! Even with all these luxe amenities, the best parts of camping – the star gazing at night, and the sounds of nature, still remained perfectly in tact. I could literally sit for hours watching the sky change as the sun set across the desert.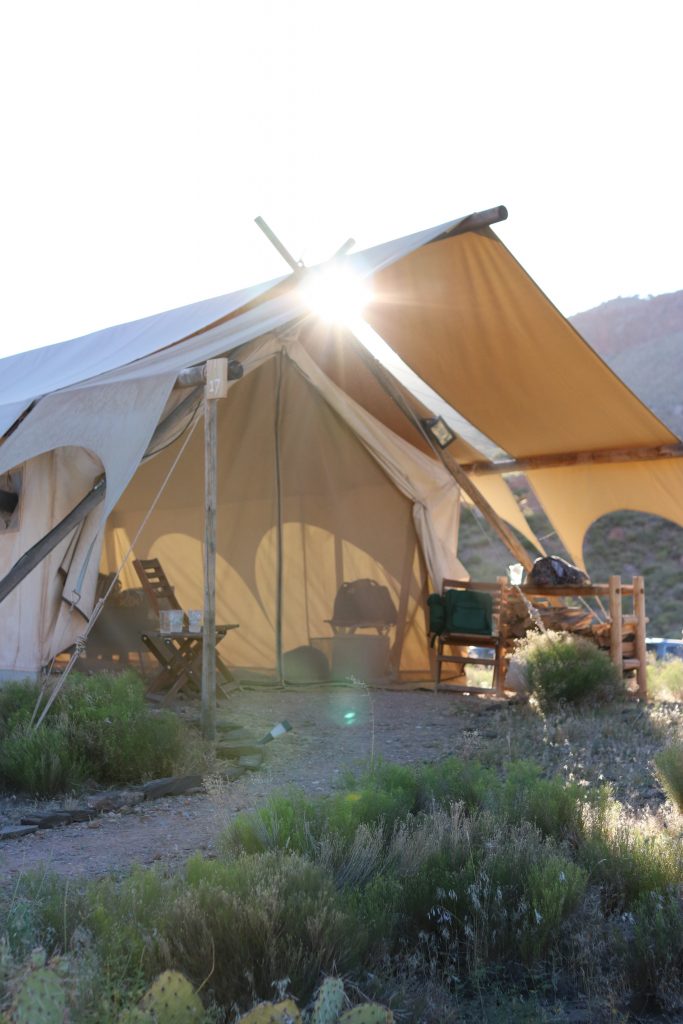 Pro-tip: Book a tent with an in-suite bathroom! (If for some reason you can't, fear not, the shared bathrooms are very well appointed and extremely clean). My personal favorite is the Stargazer tent which offers a viewing window to look at the stars from the comfort of your king bed. And, while each tent fits four comfortably, you can opt for one with an adjacent teepee if you're traveling with a larger group.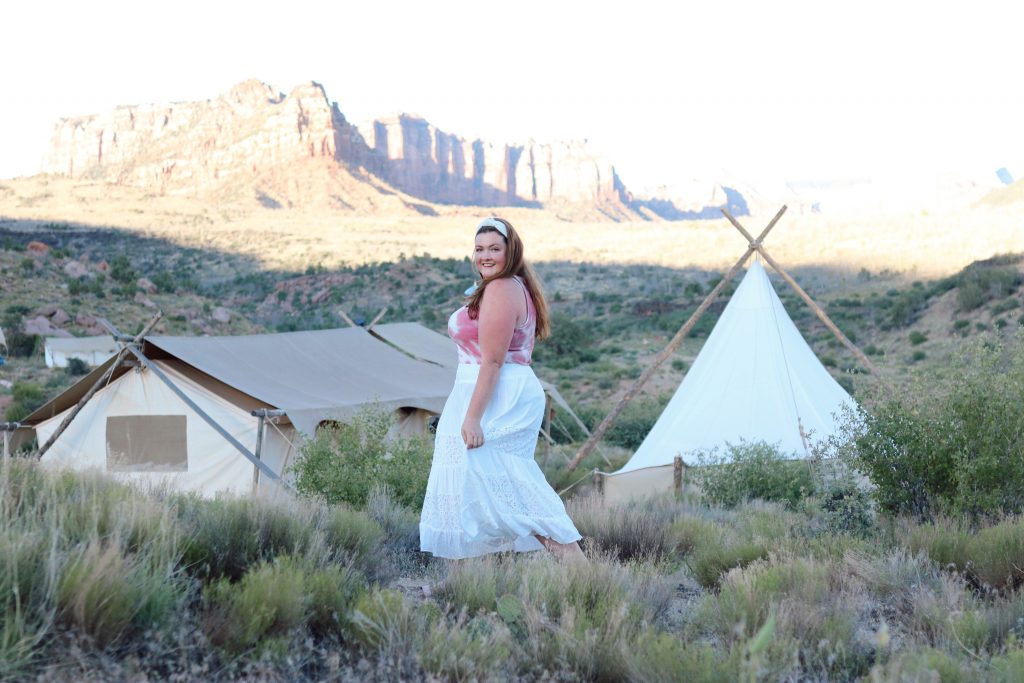 EAT
While food is not allowed overnight in the tents for obvious reasons (hello wild animals), Under Canvas Zion has literally thought of everything including their well appointed onsite restaurant, Embers.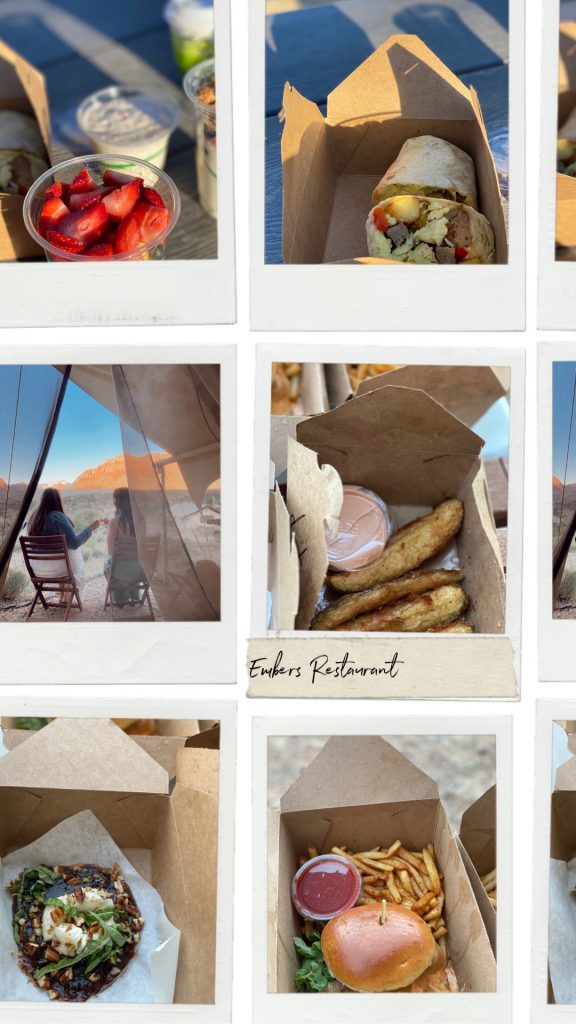 Our first nite there we took advantage of the dinner service. With items like grassfed organic burgers (highly recommend – the carmelized onions were delish), chicken strips, goat cheese & honey, fried pickles (another mouthwatering surprise), delicious salads and full wine menu, you won't go hungry. Breakfast was just as tasty too and we opted for the breakfast burrito, fresh fruit, and some overnight oats. They even offer lunch boxes to go too!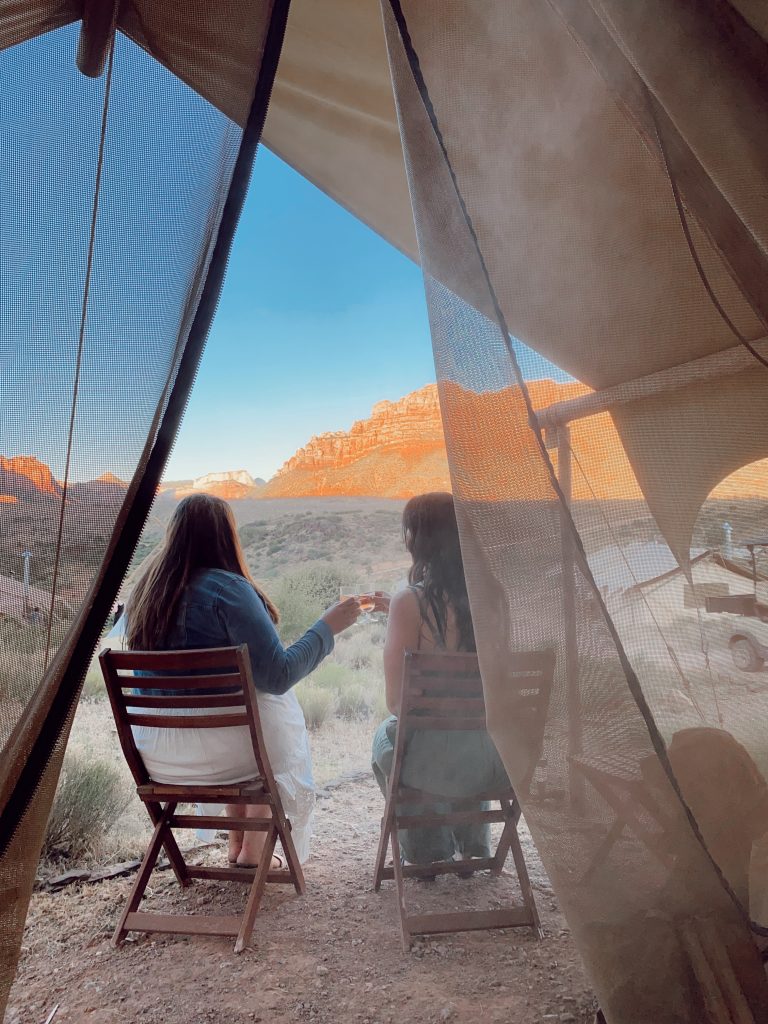 WHAT TO DO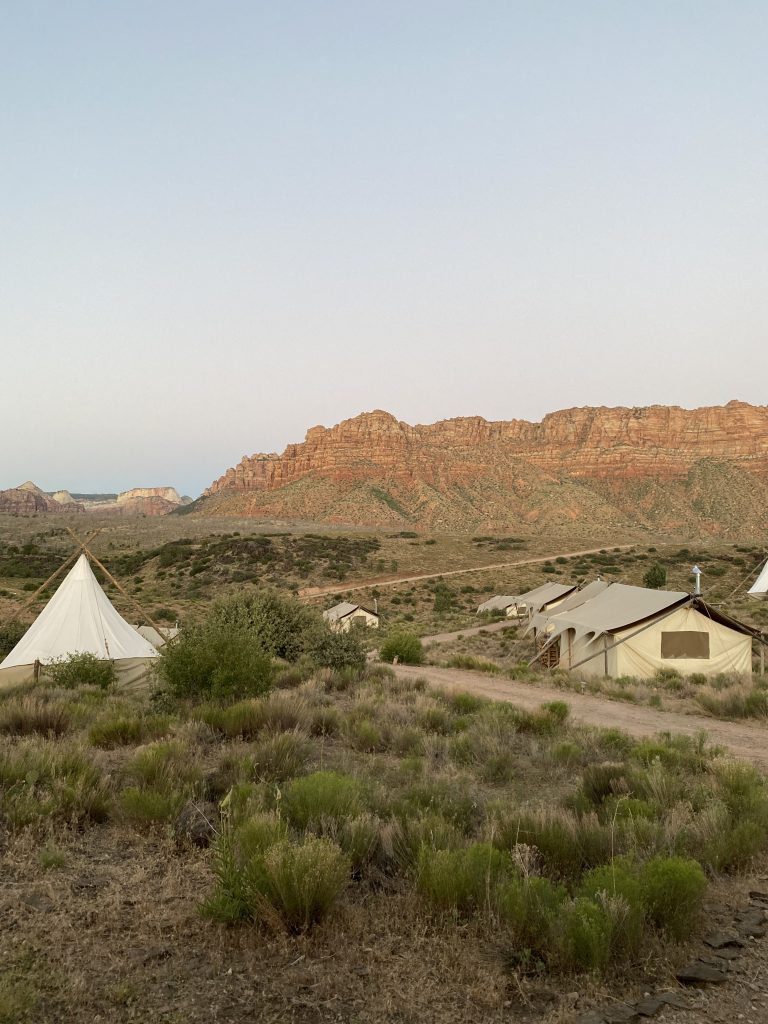 The surrounding desert offers plenty of activities, from rafting to horseback riding to kayaking to hiking—even helicopter rides. The staff at Under Canvas can help you facilitate your activities and navigate you around town. They will gladly organize a canyoneering adventure or exploration of Zion with a private Jeep Tour. We actually ventured up the hill in our car for a beautiful 20 min drive through Zion National Park to the Kolob Reservoir, which I highly recommend if you've got the time or are looking for a place to cool off. The reservoir is especially worth the trip on those HOT days because the temperature is actually about 10-20 degrees cooler than the campsite. Under Canvas also offers yoga, smores night and live music during dinner service at the restaurant (during COVID some of these things like yoga and smores are no longer offered, so please check with them prior to visiting).
THINGS TO NOTE
Food is not allowed in your tent or around your camp area for obvious reasons ( you definitely don't want wildlife stopping by to pay you a visit) but during COVID the rules were a little different. They allowed us to eat at our tent and had an evening garbage collection service.
Coffee Service is available every morning on the house!
Some tents allow you to drive your car right up to the front while others require you to walk and leave your car in the parking area. The staff is more than happy to escort you to your tent and drop off your luggage.
Embers Restaurant is delicious and will satisfy even the most pickiest of eaters! They offer a breakfast and dinner service and this is definitely the easiest and most walkable place to grab a bite.
There is no power but they do give you chargers for items like your cellphone, lantern and fans in your tent.
All the tents have built in misters, but please note they only operate when temperatures rise above 90 degrees.
If you can book one of the suites or stargazer tents that have their own bathrooms.
Show up and enjoy the moment – you don't have to pitch a tent or worry about amenities! They have everything on site!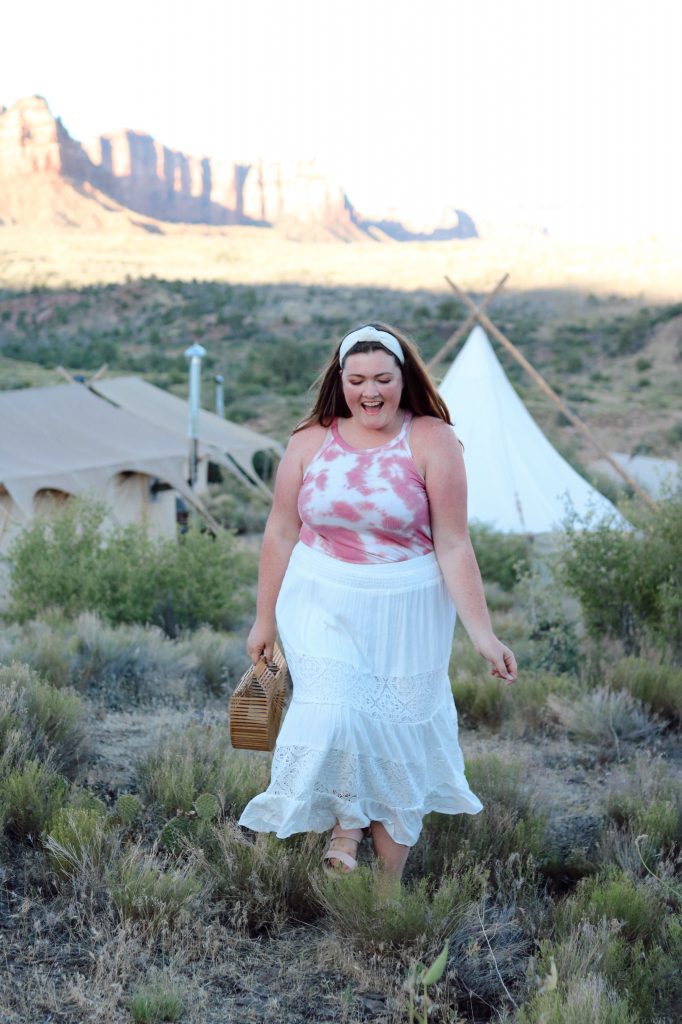 Overall, this was an experience like no other! This trip was extremely inspiring and encouraged a deeper engagement with my surroundings. I am happy to report that I am now looking at other Under Canvas locations and I highly recommend enjoying this upscale approach to sleeping under the stars! Check back later this week for the ultimate guide to Zion National Park xo ~ Lovely in LA